Rubika (pixel-art)
Rubika is a 4 minutes animation short film, made during the masterclass called Le Laboratoire, in Supinfocom Arles, in 2010.
I did some pixel-art few years ago. Here is an extract of Rubika, short movie, made during a 3 month masterclass with students* of Supinfocom Arles.
They directed and made the 3D and I wrote the scenario and did the design… Music and sound by Erik Wedin.
*students are : Claire Baudéan, Ludovic Habas, Mickaël Krebs, Julien Legay, Chao Ma, Florent Rousseau, Caroline Roux, Margaux Vaxelaire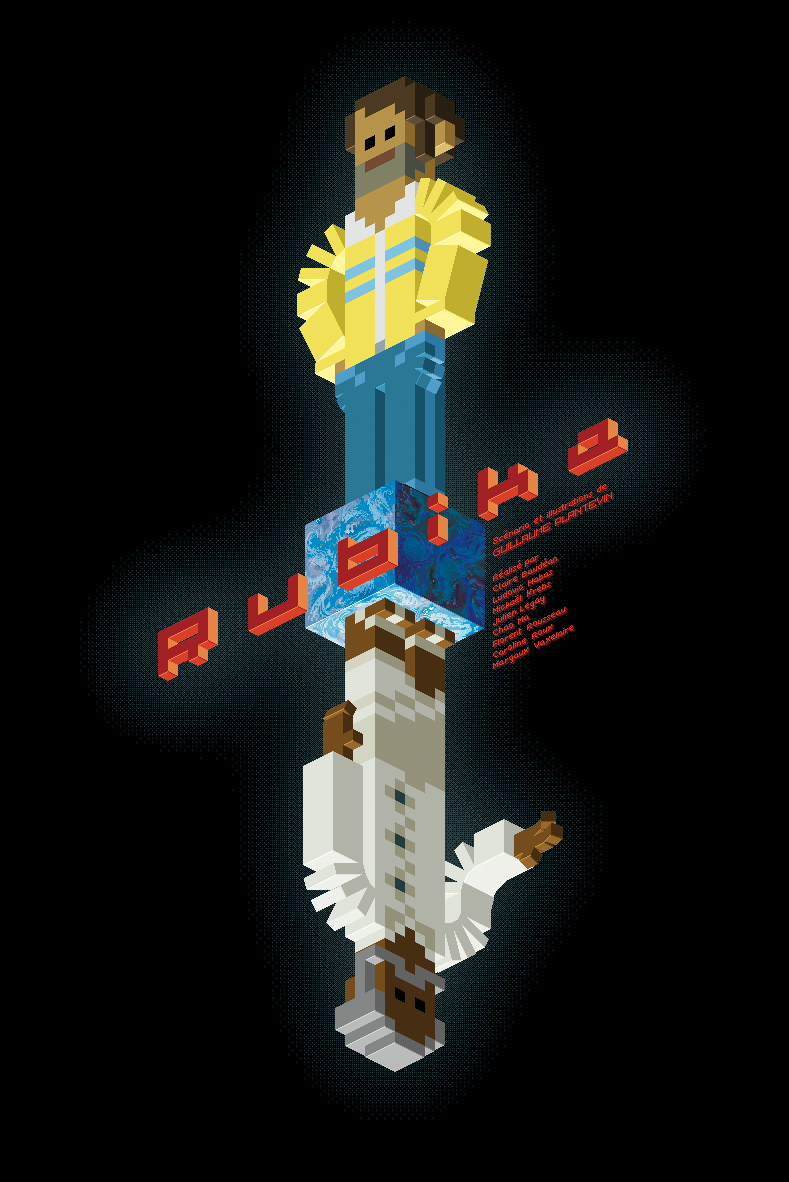 Awards

(last update november 2011) :

International short film festival, Lille, France
09/10/2010 – 16/10/2010
Best Animation
ANIMA, Brussels, Belgium
04/03/2011 – 13/03/2011
Prix Anima 2011 du meilleur court métrage, catégorie films professionels
Future Film Festival, Bologne, Italy
20/04/2011 – 23/04/2011
www.futurefilmfestival.org
Second prize of the public
Special mention of the jury
Be Film The Underground Film Festival (BTUFF), New York, USA
03/05/11 – 07/05/11
www.befilm.net
2nd place in Animation Category
Festival International des très courts
04/05/11 – 15/05/11
http://www.trescourt.com/
Prix du public
Plein la Bobine, La Bourboule, France
16/06/11 – 20/06/11
www.pleinlabobine.com
Prix du public
FEST - International youth film Festival, Espinho, Portugal
27/06/11 – 02/07/11
www.fest.pt
Audience Award
Sapporo Short Film Fest, Sapporo, Japan
05/10/11 – 10/10/11
http://www.sapporoshortfest.jp/
Best Mini Short Award
Festival international du film d'animation, Krok, Ukraine
24/09/11 – 01/10/11
www.krokfestival.com
Prize Category I - Films up to 5 minutes
Festival selections
ReAnimania, Int'l animation film festival, Yerevan, Armenia
09/09/10 – 13/09/2010reanimania.com
Effets Star SFX festival, Aigues-Mortes, France
24/09/2010 – 26/09/2010
http://www.effet-star.com/
International short film festival, Lille, France
09/10/2010 – 16/10/2010
http://www.rencontres-audiovisuelles.org/
Biennal of Animation for Children (BAB), Bratislava, Slovakia
12/10/10 – 16/10/10
http://www.bab-slovakia.sk/index.html
Granada International Festival for young directors, Granada, Spain
23/10/10 – 30/10/10
www.filmfest-granada.com
Int'l Short film festival, Uppsala, Sweden
25/10/2010 – 31/10/2010
http://www.shortfilmfestival.com/
International Animation Film Festival TIDIRINDIS, Vilnius, Lituania
25/10/10 – 31/10/10
http://www.tindirindis.lt/
Animago Award, Stuttgart, Germany
28/10/10 – 29/10/10
http://www.digitalproduction.com/animagoeng/home.asp?NS=1
St. Louis International film festival, St. Louis, USA
11/11/2010 – 21/11/2010
http://www.cinemastlouis.org/
Animanima, Cacak, Serbia
17/11/2010 – 20/11/2010
www.animanima.org
Festival du film court de Villeurbanne, Villeurbanne, France
19/11/2010 – 28/11/2010
www.festcourt-villeurbanne.com
Nuits Magiques, Bègles, France
03/12/10 -12/12/10
www.lesnuitsmagiques.fr
Festival International du court métrage, Louvain, Belgique
04/12/10 – 11/12/10
www.kortfilmfestival.be
Festival National du Film d'Animation, Bruz, France
14/12/10 – 19/12/10
www.afca.asso.fr
Clermont-Ferrand Short Film Festival (national competition)
04/02/2011 – 12/02/2011
http://www.clermont-filmfest.com/home.php
Multivision : International Festival Of Animated Arts, St. Petersbourg, Russia
03/12/10 – 05/12/10
www.multivision.ru
Anima Festival, Brussels, Belgium
04/03/11 – 13/03/11
www.animatv.be
NY International Children's Film Festival, New York, USA
04/03/11 – 27/03/11
www.gkids.com
International Film Festival Fantasporto, Porto, Portugal
21/02/11 – 06/03/11
www.fantasporto.com
RiverRun International Film Festival, Winston-Salem, USA
08/04/11 – 17/04/11
www.riverrunfilm.com
Amsterdam Fantastic Film Festival IMAGINE, Holland
13/04/11 – 23/04/11
www.imaginefilmfestival.nl
Tiburon International Film Festival, Tiburon, CA USA
07/04/11 – 15/04/11
www.tiburonfilmfestival.com
The Byron Bay Film Festival, Byron Bay, Australia
04/03/11 – 13/03/11
www.bbff.com.au
Florida Film Festival, Maitland, USA
08/04/11 – 17/04/11
www.floridafilmfestival.com
European Film Festival of Lille, Lille, France
01/04/11 – 08/04/11
http://www.filmcourt-lille.com/
Festival Trois Jours Très Courts, Castres, France
07/04/2011 – 09/04/2011
http://www.festival-castres.fr/
Indielisboa - LISBON INTERNATIONAL INDEPENDENT FILM FESTIVAL
05/05/2011 – 15/05/2011
http://www.indielisboa.com/
Be Film The Underground Film Festival (BTUFF), New York, USA
03/05/2011 – 07/05/2011
www.befilm.net
Festival des très courts - Paris/Province, Paris, France
04/05/2011 – 15/05/2011
www.trescourt.com
Festival international du court-métrage, Brussels, Belgium
28/04/2011 – 08/05/2011
www.courtmetrage.be
Festival International de cinema d'animation de Meknes
15/04/2011 – 20/04/2011
www.ficam.ma
CURTOCIRCUITO - International Short Film Festival, Santiago de Compostela, Spain
06/05/2011 – 15/05/2011
http://www.curtocircuito.org/
Festival Internacional de Filmet, Badalona, Espagne
04/11/2011 – 12/11/2011
http://www.festivalfilmets.cat/
Plein la Bobine, La Bourboule, France
16/06/2011 – 20/06/2011
www.pleinlabobine.com
Future Film Festival, Bologne, Italy
20/04/2011 – 23/04/2011
www.futurefilmfestival.org
WORLDWIDE SHORT FILM FESTIVAL (WSFF), Toronto, Canada
31/05/11 – 05/06/11
www.worldwideshortfilmfest.com
Backup Film Festival, Weimar, Germany
05/05/11 – 08/05/11
www.backup-festival.de
Festival Européen du Court-métrage de Bordeaux, Bordeaux, France
05/05/11 – 06/05/11
www.cinefestival-bordeaux.fr
SICAF (Seoul International Cartoon et Animation festival), Seoul, South Korea
20/07/2011 – 24/07/2011
www.sicaf.org
Edinburgh International Film Festival, Scotland, UK
15/06/11 – 26/06/2011
www.edfilmfest.org.uk
Maremetraggio - International Short Film Festival, Trieste, Italy
01/07/11 – 09/07/11
http://www.maremetraggio.com/
FEST - International youth film Festival, Espinho, Portugal
27/06/11 – 02/07/11
www.fest.pt
Anima Mundi, Rio de Janeiro, Brazil
15/07/11 – 25/07/11
www.animamundi.com.br
ALPINALE Short film festival, Bludenz, Austria
09/08/11 – 13/08/11
www.alpinale.net
Festival Int. de Curtas-Metragens, Vila Do Conde, Portugal
09/07/11 – 17/07/11
www.curtasmetragens.pt
Cartoon D'or 2011, Préselection Cartoon Forum, Bruxelles, Belgium
13/09/11 – 16/09/11
http://www.cartoon-media.eu/
Festival Narkolepsy, Grenoble, France
30/06/11
www.narkolepsy.com
Curtocircuito Na Rúa, Spain
25/08/11 Praza Praterias
www.curtocircuito.org 
Guanajauto IFF Mexico "Expresion en Corto", Mexico
22/07/11 – 31/07/11
www.expresionencorto.com
I've seen short film festival, Milano, Italy
05/10/11 – 14/10/11
www.cortoweb.itLucania Film Festival, Lucania, Italy
09/08/11 – 13/08/11
www.lucaniafilmfestival.it
Festival international du film d'animation, Krok, Ukraine
24/09/11 – 01/10/11
www.krokfestival.com
Festival du film d'animation et de fiction ANIMATOU, Switzerland
01/10/11 – 09/10/11
http://www.animatou.com/cinematou/
Festival du 1er court métrage, Pontault-Combault, France
14/10/11 – 16/10/11
http://www.apollofestival.net/Concorto Film Festival, Pontenure – Piacenza, Italie
20/08/11 – 27/08/11
www.concorto.com
SHNIT Festival, Bern, Switzerland
05/10/11 – 09/10/11
http://www.shnit.ch/Sapporo Short Film Fest, Sapporo, Japan
05/10/11 – 10/10/11
http://www.sapporoshortfest.jp/
Festival du film de Saint-Paul-Trois-Chateaux, France
08/10/11 – 15/10/11
http://www.festivaldufilm-stpaul.fr/
animEST, Bucarest, Romania
09/08/11 – 13/08/11
http://www.animest.ro/
CICFF, Chicago International Children's Film Festival, USA
21/10/11 – 30/10/11
http://www.cicff.org/
Un Festival c'est trop court, Nice, France
18/10/11 – 23/10/11
http://www.nice-filmfest.com/
04/11/11 - 12/11/11 : Festival Internacional de Filmet, Badalona, Spainhttp://www.festivalfilmets.cat/
07/10/11 - 16/10/11 : AnimEST, Romania http://www.animest.ro/

 
Non competitive screenings

Annecy Film Festival, France, June 2010
French Union For Youth Films Day, June 2010
Mas Sorrer Film Festival, Spain, July 2010
Palic Film Festival, Serbia, July 2010
Festival du film court d'humour de Meudon, France, Oct. 2010
Du grain à démoudre, Gonfreville, France, Nov. 2010
Courts-Bouillon, Rousset, France, October 2010
Festival Bulles, Carbon Blanc, France, 26-27/03/2011
Pictoplasma Festival, Berlin, Germany, April 2011
MIAF International animation festival, Merlbourne, Australia, June 2011
A Wall is a Screen, Hamburg, Germany, divers événements pendant 2011 
Medit Festival, Barcelone, Spain, July 2011
FMX Stuttgart 2011, Dreamworks Conference
Détours en Ciné-Court, St Geniès, France, June 2011
La Turbine, Lyon, France, July-August 2011
Palmarès Be Film The Underground Film Festival, TORONTO, Septembre 2011
Animatricks, Finland, 13/10/11 – 16/10/11
Rencontres Audiovisuelles, Paris, France, 22/10/11
Subtravelling, Barcelona, Spain, 24/10/11-28/11/10
Pluspunt, Rotterdam, Pays-Bas, 16/09/11
Fontenay en Scènes, Fontenay-sous-Bois, France, 17/09/2011
Ciné Premières, Groningue, Pays-Bas, 05/11/2011
11th CFC Worldwide Short Film Festival, Toronto, Canada, 05/10/2011
Youth Programme Winterthur Festival, Winterthur, Suisse, 9-13/11/11
« Un festival c'est trop court » Nice, France, 18/10/2011
Séance « Passeurs d'images », Lorient , France, 25/10/2011
Festival Animac, Lleida, Espagne, 28/10/2011
Festival de Medellin, Colombie, 09/12/2011
Kloosterkino, Nijmegen, Pays-Bas, 21/01/2012

#TV
France : Canal +
Russie : Egoist TV
Espagne : Sogecable / DTS
SHORTS INTERNATIONAL, UK, for Turkey, USA, Taiwan,3 years from 1st transmissio
# DVD
Le Laboratoire d'images
ADAV (octobre 2011)
# VOD
SHORTS INTERNATIONAL - iTunes
# EN SALLE
Cinema Star Strasbourg, Strasbourg, France, juin 2011
Suisse : Base-Court, sous-distribution dans la Suisse romande
RADI, AGENCE DU COURT METRAGE, Paris, France, 2011 to 2016